While Microsoft Windows still dominates the Desktop environment, with about 75% usage share, followed by about 15% macOS, it increasingly becomes annoying with every update, doing what it wants without your permission and stealing data. A lot of them are really hard to avoid, like the automatic updates and restarts these days. There are ways to stop the automatic updates and restarts, but most of these are beyond the capabilities of the average user. Also, if those tricks are published on internet, Microsoft disables them – I have a way to stop Windows from restarting by itself, but I don't want them to figure that out and disable it.
There are some very annoying things that they officially allow you to turn off, and doing so returns some of the computing resources back to you.
News feed and Cortana
Even if you tell Windows that you don't want Cortana during setup, or after the updates, it still sits on your taskbar.
The very annoying news feed that pops up when the mouse cursor goes in the lower right corner of the desktop to disrupt what you were doing, takes up some resources as well. I have never wanted it, never used it for news, it's just a pure uninvited annoyance.
Both these features can be turned off.
Right click on the Taskbar
Uncheck "Show Cortana button"
Check "Turn off" in "News and interests"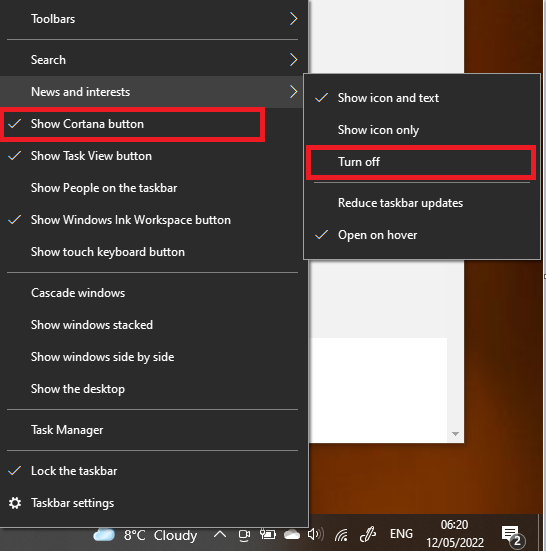 403 total views, 1 views today